School Blog

The blog for Fairlands School Council,
By the children, for the children!
Our Council is made up of two representatives from each class in Key Stage 1 & Key Stage 2. Year 6 pupils are also nominated to represent the Foundation Stage on the Council.
We are here to help you get things done!
By
School Council
, in School Council - Tuesday, 26 November 2019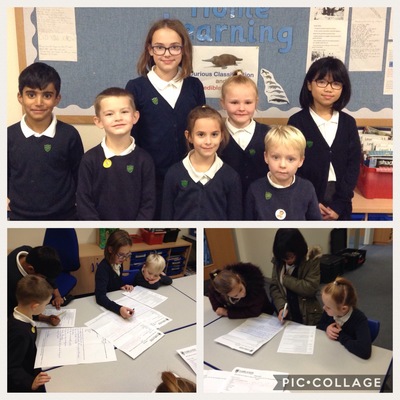 Our School Council representatives, who were elected at the start of term, met for their second meeting of the year.
Representatives were presented with their official badges. They had previously voted for the colour of the badge to be green to represent the Council's focus – environmental issues.
The council had asked the school for ideas on how to be more environmentally friendly. Today, they went through the suggestions and collated them. The feedback will be presented during assembly on Monday.
By
School Council
, in School Council - Wednesday, 3 October 2018

Today our new School Council met for the first time and were given their official badges.
After introductions, we discussed our role in gathering the thouhgts and feelings of children from across the school, to ensure that their views are represented in the daily running of the school.
Our first task is to find out how children feel about our topic based curriculum. We agreed the following questions:
1. Should every topic start with writing down everything you know already, then any questions that you have about the topic?
2. Should topic display boards have a big letter title, pictures, children's work, vocabulary and questions?
3. Should WOW days always involve dressing up?
4. Can you go on trips as your WOW day?
5. When is it best to go on trips - beginning, middle or end of the topic?
6. How could we make WOW days more WOWIE?
Each class will now discuss the questions, then feedback to the year group representative by 10th October.
At the next School Council Meeting, each year group representative will feedback. We will decide how best to present our findings to the school in assembly the following week.
We hope to also find out the thouhgts of parents and carers with regards to our topic based curriculum.