By
Mental Health lead

, in SEND SUPPORT - Wednesday, 10 May 2023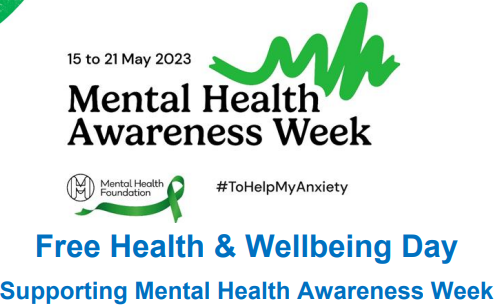 Free Health & Wellbeing Day supporting Mental Health Awareness Week
A great, free event for parents and carers. Pop along and explore the stalls to gain ideas and support for your own mental health and the mental health of your family members.

Tuesday 16th May 202310:00 – 15:00
Healthy Hub Stevenage, Stevenage Arts and Leisure Centre

Join Hertfordshire Talking Therapies for a fact-filled day of stalls and workshops hosted by local charities and services including:
• NHS Talking Therapies
• Mind in Mid-Herts
• Triangle Community Gardens
• Healthy Hub Stevenage, Stevenage Arts & Leisure Centre
• Holistic Health At Home
• Newleaf Recovery and wellbeing College
• The Living Room
• Foodshed/Babyshed
• Pixie & Pickles Therapy Ponies!