School Blog

The blog for Willow, Whitebeam & Walnut,
Miss Ferguson, Ms Hilton & Miss Hodgson
By
Year 6
, in Year 6 - Friday, 1 November 2019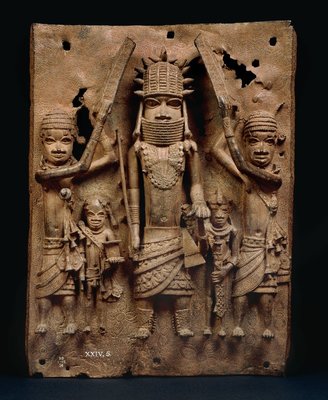 October was Black History Month, which aims to promote and celebrate achievements of individuals and communities as well as fostering an understanding of Black history in general. Year 6 learnt about the ancient Benin Kingdom, which is located in modern day Nigeria. We were impressed by the decorative and informative brass plagues which the Benin people used to make to decorate the palace walls. By studying the plaques, we were able to infer lots of historical information about the Oba (king) and his subjects. We discovered how British history is linked to the Kingdom of Benin and how many of the plaques ended up in the British Museum in London where they are currently on display. At the end of the unit, we asked the question – Should the Benin Bronzes be returned to Nigeria? Ask your child to tell you more about this important topic.
By
Whitebeam Class
, in Year 6 - Friday, 18 October 2019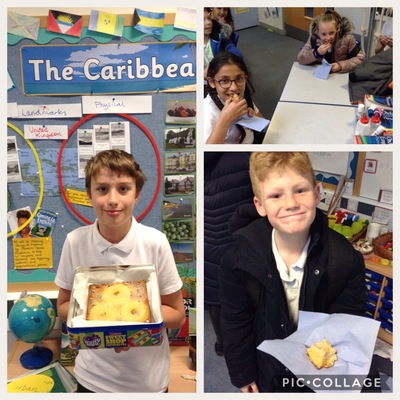 Whitebeam class had a treat on Wednesday: as part of his homework on our current topic, the Caribbean, one child baked a delicious pineapple and banana cake! He kindly brought it into share with his classmates who all agreed that it was delicious! One friend even remarked that the generous baker should open their own cake shop!
By
Whitebeam
, in Year 6 - Friday, 11 October 2019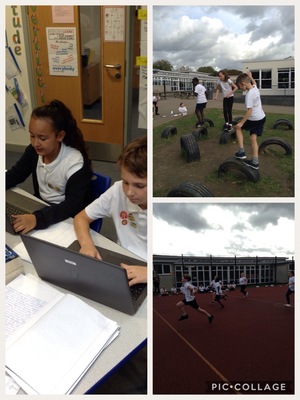 This half term, we have been looking at Excel spreadsheets during ICT and fundamental skills (throwing, catching, balancing etc) during PE. This week, we combined both by performing a range of activities in PE and inputting our scores onto a spreadsheet. We were able to use excel to total the individual and group scores and winners received a coveted prize – a smelly sticker!
By
Whitebeam
, in Year 6 - Wednesday, 9 October 2019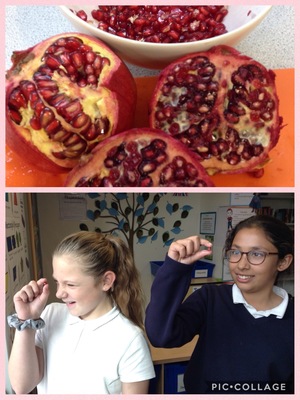 This week in Guided Reading, Whitebeam class have been reading the poem 'How to cut a pomegranate' by Imtiaz Dharker. Today, we used real pomegranates to bring meaning to the poem. By seeing the fruit being cut open and by studying the seeds inside, which the poet refers to as jewels, we were able to deepen our comprehension.
The poem says: "Separate one crystal. Hold it up to catch the light. Inside is a whole universe." We held up our seeds and observed that the crimson fruit was luminous in the sunlight.
At the end, we got to eat the delicious seeds! We all loved them.
Later in the week, we will be trying to memorise the poem. Why don't you ask us to try and recite it at home?
By
Miss K Ferguson
, in Year 6 - Tuesday, 8 October 2019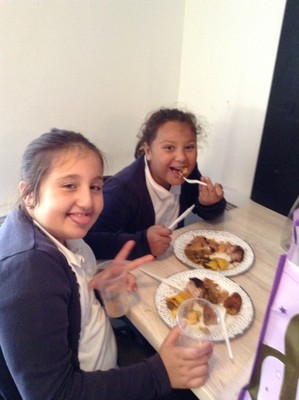 Today, year 6 visited Ritty's Place in the Old Town to experience some Caribbean culture. The children tucked into some traditional dishes; curried goat, plantain, rice and peas, jerk chicken and curry patties all washed down with tropical juice.
By
Year 6
, in Year 6 - Tuesday, 10 September 2019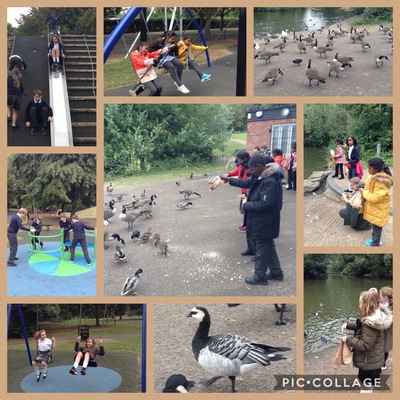 Yesterday, Year 6 went to Fairlands Valley Park. We fed the ducks but there was not a crust of bread in sight! That morning, we had made healthy duck food which included: shredded lettuce, peas, rice, oats and halved grapes. The peas were definitely a firm favourite among the aquatic, feathered friends. We even spotted an unusual bird that none of us, including the adults, had ever seen before! It is in our photos - do you know what it is? After feeding the ducks, we then had plenty of time for fun and larks at the playground! Luckily, the rain held off until after our return to school - phew!
By
Year 6
, in Year 6 - Monday, 9 September 2019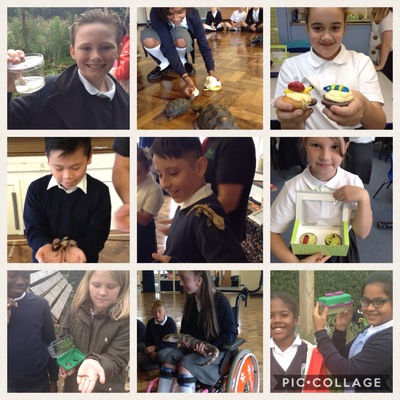 What a wonderfully, wild day Year 6 had on Friday. We went pond dipping and found dragonfly nymphs, pond skaters and water snails. We were visited by Codicote Reptiles who brought jumping geckos, snakes, tarantulas and more! Two tortoises took a little stroll past us on the floor before one lucky pupil was selected to feed them bananas! After that, we made animal inspired cupcakes which looked very impressive when finished. We can't wait for more Wildlife inspired activities on Monday.
By
Year 6
, in Year 6 - Monday, 22 July 2019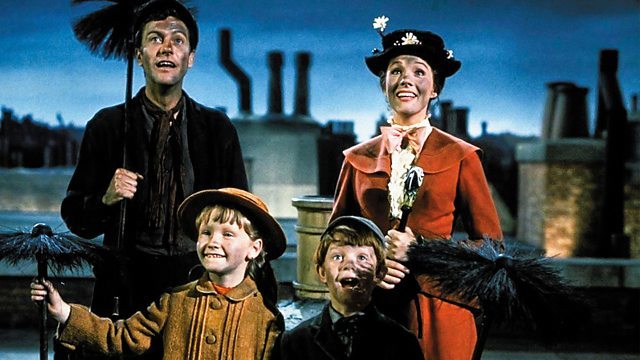 The reviews are in and they are supercalifragilisticexpialidocious! Last week, the Year 6 cast and crew delivered five outstanding performances of Mary Poppins and their teachers could not be prouder. After watching the show, parents, carers and adults from across the school expressed their praise and delight. We hope that the children will treasure their memories of the production for a long time. Including the familiar songs and characters from the famous musical, the production also contained gymnastics, street dance and rap - it certainly was 'The Greatest Show!'
By
Whitebeam
, in Year 6 - Wednesday, 5 June 2019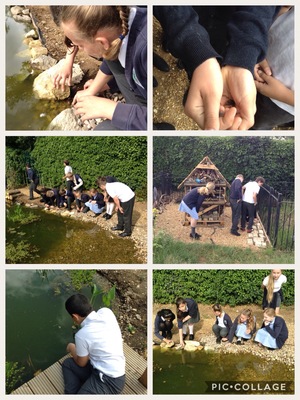 This month at Fairlands, we are celebrating '30 Days Wild' as promoted by The Wildlife Trust charity.
In Whitebeam, we participated in the event by enjoying our first class-visit to the new pond. We saw small, unidentified creatures swimming the water, explored the bug hotel (Buglands), crossed the small footbridges and relaxed on the seats. Two children observed some unusual purple blooms growing on some of the shrubs. The most exciting thing however was seeing some baby frogs, which were only 2cm in length. Some of us gently held them before carefully returning them to the water. We are going to see how much they grow by the end of the summer term.
What wild things will you be doing this month?
By
Year 6
, in Year 6 - Thursday, 23 May 2019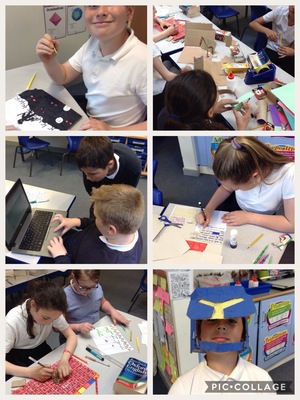 After impressing our teachers with our maturity, resilience and hard work during the SATs tests last week, we have been demonstrating independence by planning our own topics. We were allowed to choose any topic that we were passionate about and plan related activities. Some of our topics include music, football, Harry Potter, undiscovered countries and superheroes. Our activities include tasks such as creating word searches, posters, presentations, 3d models, stories and fact files. Our teachers are impressed that we are demonstrating focus, creativity and pride in our work. Well Done Year 6!