School Blog

The blog for Pine, Poplar & Spruce,
Mr Holgate, Mrs Jeffries, Mrs Marlow & Mrs Southam
By
Year 5 team
, in Year 5 - Thursday, 24 October 2019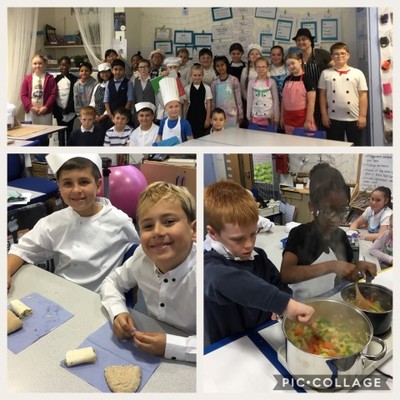 Today was not your normal Thursday in Year 5. Today was our Culinary WOW day! As part of our Design and Technology learning, we have been cooking a range of healthy dishes, including: pitta pockets, salad wraps, vegetarian chilli, vegetable soup and a yummy vegetable sauce for pasta. Before we started cooking though, we had to learn some basic skills. We identified reasons for keeping our hands and workstations clean and discovered the correct ways to peel, chop and grate food. After learning these core skills, we went on to combine ingredients and learn how to work safely on the hob. We have even got to taste our delicious creations so we might not be that hungry at dinner time!
We would love to practise our new skills at home and hope to impress you over half term. We are bringing home a booklet to enter the "Young Chef of the Year" competition and are all very excited about participating.